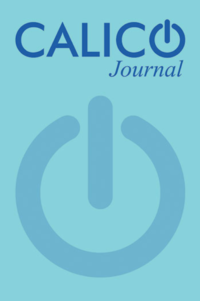 CALICO Journal
Issue 37.3 (2020) table of contents
Editorial – open access
Publishing on CALL Products : Guidelines for Authors and Developers
Oksana Vorobel , Bryan Smith
Articles
Traditional Versus ASR-Based Pronunciation Instruction : An Empirical Study
Christina Garcia , Dan Nickolai , Lillian Jones
Vocabulary Learning Through Viewing Captioned or Subtitled Videos and the Role of Learner- and Word-Related Factors
Isabeau Fievez , Maribel Montero Perez , Frederik Cornillie , Piet Desmet
An Empirical Study on Vocabulary Recall and Learner Autonomy through Mobile‑Assisted Language Learning in Blended Learning Settings
Takeshi Sato , Fumiko Murase , Tyler Burden
Spotlight
Testing a Research-Based Digital Learning Tool : Chinese EFL Children's Linguistic Development
Hee Jin Bang , Kirsten Olander , Erin Lenihan
Book Reviews – open access
The Handbook of Technology and Second Language Teaching and Learning, edited by Carol A. Chapelle and Shannon Sauro
Moira Di Mauro-Jackson
Cross Cultural Perspectives on Technology-Enhanced Language Learning, edited by Dara Tafazoli, M. Elena Gomez Parra, and Cristina A. Huertas-Abril
Jo Ann Arinder
Gameful Second and Foreign Language Teaching and Learning: Theory, Research, and Practice, by Jonathon Reinhardt
Arthur Wendorf
Learning Technology Reviews – open access
ImmerseMe
Margherita Berti
Editors
Bryan Smith, Arizona State University
Ana Oskoz, University of Maryland Baltimore County Book Review Editor
Oksana Vorobel, BMCC, CUNY
Learning Technology Reviews Editor
Theresa Schenker, Yale University
Managing Editor
Esther Horn, CALICO 
Assistant to the Editors
Michael Winans, Arizona State University 

CALICO Journal http://equinoxpub.com/CALICO ISSN: 2056-9017 (online)

The CALICO Journal, founded in 1983, moved to Equinox in 2015. CALICO Journal is the official publication of the Computer Assisted Language Instruction Consortium (CALICO) and is devoted to the dissemination of information concerning the application of technology to language teaching and language learning. The journal is published online-only, is fully refereed and publishes research articles and studies and software and book reviews. Three issues appear annually and normally one of them is a thematic issue on current discourses and developments in Computer-Assisted Language Learning. CALICO's international editorial board and large group of authors and reviewers reflect its global readership.